Gradebook Management System
Accelerate the grading process with a user-friendly and adaptable web-based grading tool, accessible to teachers on any device and from anywhere. Visual reports simplify the scoring, review, and sharing of both standards-based and traditional grades with parents. Online grading of assignments, tests, and quizzes with real-time updates to parent and student portals.
Try it free for 15 days. No credit card required.
Features Of Gradebook Managment System For Educational Institute
A Gradebook Management System for educational institutes typically includes a wide range of features to help teachers, administrators, and students effectively manage grading and academic performance.
Assessment Evolution: Navigating The World of Flexible Grading
Traditional Grading
This is the conventional method of grading, where students are assigned letter or number grades based on their performance in exams, assignments, and assessments.
Pass/Fail Grading
In a pass/fail system, students are not assigned letter grades but are simply marked as "pass" if they meet a minimum standard or "fail" if they do not.
Grade Bands
Instead of using specific letter grades, teachers might use grade bands or ranges (e.g., A, B, C, D) to provide a more general assessment of student performance.
Gamification
Incorporating game-like elements into the grading process can make learning more engaging, with students earning points, badges, or other rewards.
Student Data Management
Store and manage student profiles, including personal information, contact details, and enrollment data.
Grade Entry and Calculation
Enable teachers to input and calculate grades for various assignments, exams, quizzes, and other assessments. Support for different grading scales and customizable grading criteria.
Assignment and Exam Management
Create and manage assignments, exams, and other assessments. Assign deadlines, instructions, and scoring rubrics.
Simplify Progress Reports
Track each student's understanding of standards and skills with online visual reports.
Real-Time Updates
Provide real-time access to grades and academic progress for both teachers and students, allowing them to monitor performance throughout the course.
Report Generation
Generate various reports, including progress reports, report cards, and transcripts, which can be shared with students and parents.
Grade History
Maintain a historical record of students' grades, allowing for tracking and auditing purposes.
Analytics and Insights
Provide data analysis and visualization tools to help teachers and administrators gain insights into student performance, identify trends, and make data-driven decisions.
Accessibility
Ensure that the system is accessible from various devices and platforms to accommodate the diverse needs of teachers, students, and parents.
Integration
Integrate with other educational tools, such as Learning Management Systems (LMS) or Student Information Systems (SIS), for a more comprehensive educational solution.
Student and Parent Online Portal
Comprehensive reports offer insights on progress, grade comparisons, and detailed updates on student activities, fostering a more effective parent-school partnership.
Assign and Collect Homework
Empowers teachers to assign, manage, and track student work efficiently. Easily upload homework, track progress, and access grades from anywhere.
Choose Your Own Grading Scale
Course wise grading Scale like Homework 10%, Quiz 20%, Projects 30% etc... Based on this Grade Scale student can get a transcript / marksheet.
Create Reports & Workbooks in Minutes
Our platform enables teachers to expertly gather, manage, and distribute grade data, in real-time, through the classroom and beyond. Can Customize with Logo, Header & Footer as per requirement.
User Roles and Permissions
Define different user roles (E.g.. teachers, administrators, parents, and students) with varying levels of access and permissions.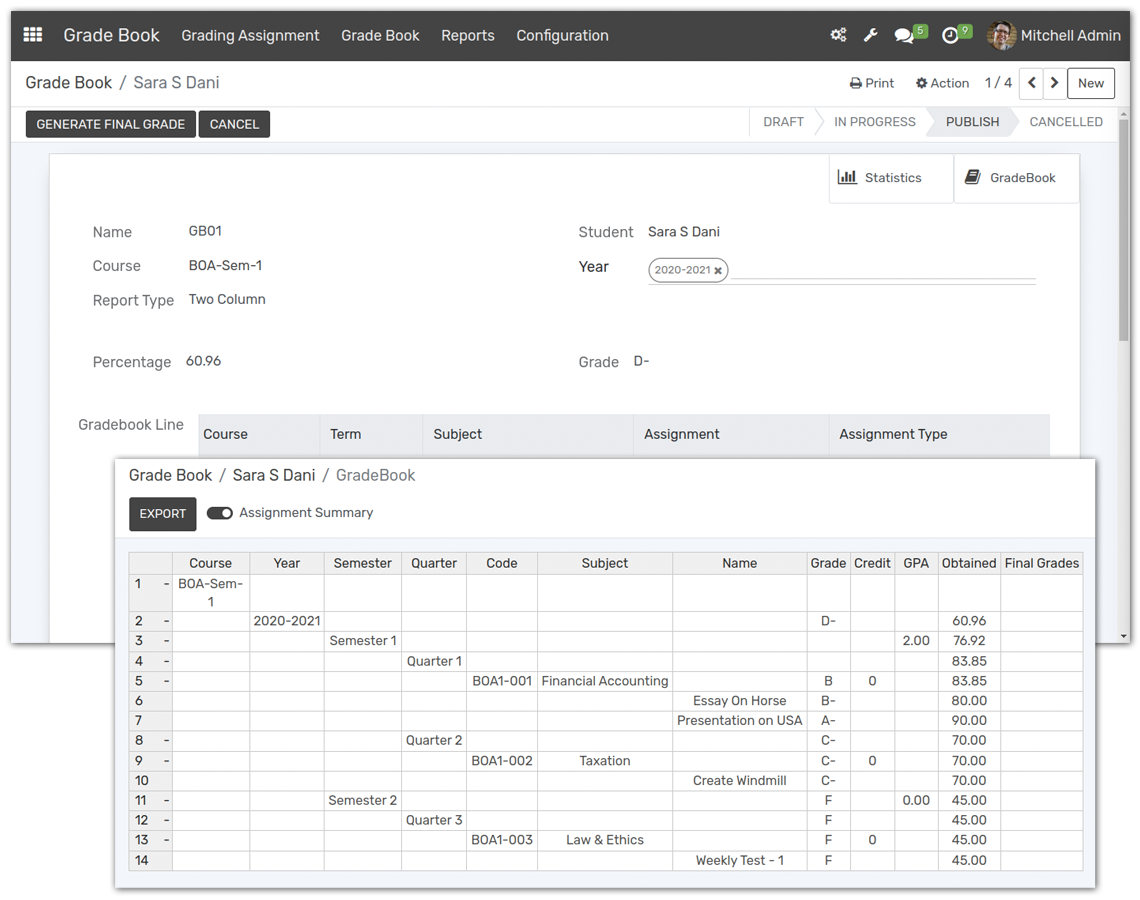 An Integrated Grading Management Software
Elevate your grading process with our comprehensive integrated grading management software. Streamline grading, enhance communication, and empower educators. Discover the future of grading today.

Frequently Asked Question
Take control of your grades and academic success with our Gradebook Management System. Try it today and simplify your educational journey!